Gaming chairs are chairs that people will use during gaming, also known as "e-sports chairs". And what are the main functions and features of this gaming chair? Let's introduce for you!
Introduction of gaming chair
From the name, we can roughly understand the function of the gaming chairs which are specially designed for people who play games. This design makes most gaming chairs ergonomic and gives users great support during playing. Since some games require the gamers to devote a high degree of energy and maintain a sitting position for a long time, the ergonomic gaming chair will make sure that gamers are still sitting comfortably
Gaming chair features:
Fabrics Mixing: Fabrics mixing is a main feature of gaming chairs. According to the comfort test results of European seat experts, normally the backrest is made of soft leather, and the seat cushion is made of carbon fiber faux leather, and some gaming chairs are also decorated with the well-received racing particle cloth;
Color Mixing: Color mixing is also a feature of gaming chairs. From the picture below, the gaming chair is colored by red and black.
Steel frame: Different from the otherchairs, the internal frame structure of gaming chairs are optimized with thicker and stronger skeleton, which improves chair comfort and safety
High and Tall Back: High and tall back gives heads and necks extra support when users want to have a rest on the chair, which isn't unachievable by most low back computer chairs
Adjustable armrest: The armrest of the gaming chair can be adjusted as you want to make the elbow joint of the keyboards and mouses is 90 degrees which will reduce the occurrence of hunchback caused by sitting too long and consequent shoulders and wrists fatigue
How to Choose a Gaming Chair?
1 Look at the five-star base 
Most gaming chairs' five-star bases are made of steel, which are much stronger than other gaming chairs, so they have a larger support capacity. In Addition, steal five-star base also has a better durability.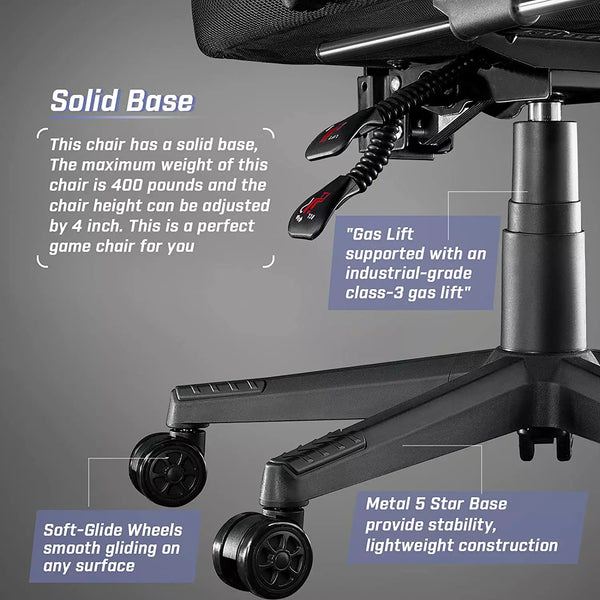 2 Look at the padding material
Some gaming chairs use cushions with hard padding material, which can cause back pain and numbness in the buttocks after long-time sitting. Therefore, we'd better to choose high density cotton or sponge as padding material, which is softer with better resilience and users will sit more comfortably with this kind of cushion.
3 Look at the skeleton
Good gaming chairs generally use an integrated steel frame, which not only comprehensively improve the durability and support capacity of the chair, but also prolong the service life, because it is reinforced, and not easy to deform after long-time sitting.
4 Look at the backrest
Gaming chairs generally have high backs, which normally have a ergonomic design and can share the body's gravity and support the body better. In addition, it's better to choose PU as the material of the backrest, as it's not only comforting and breathable, but also water-resistant.